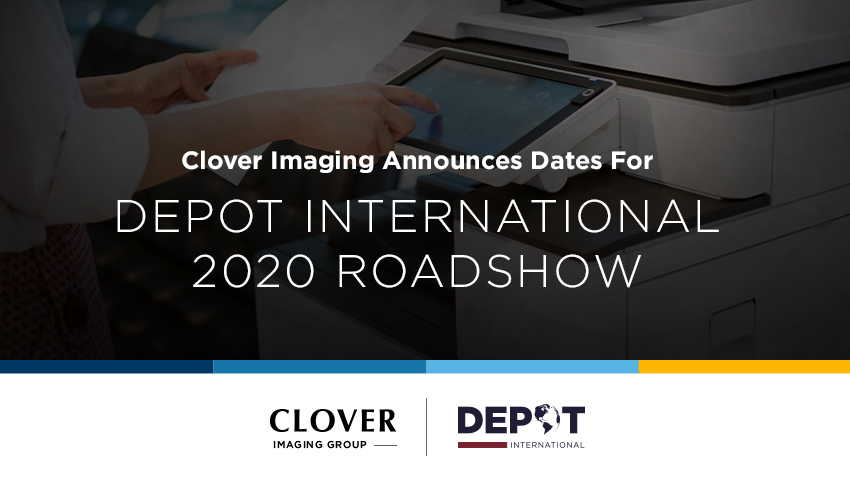 CHICAGO, IL — Clover Imaging Group is pleased to announce the upcoming training dates and locations for Depot International's 2020 Roadshow. Depot International, Clover Imaging's sister company, will present a series of training courses targeted towards providing printer repair technicians with the knowledge they need for certification — and for providing high-quality services to customers.
These two-day training sessions provide attendees with hands-on, personalized instruction delivered by Depot International's certified trainers.
Chris Sinibaldi, SVP & General Manager-Parts, Depot International, notes, "Depot International is focused on providing the kind of interactive learning that drives real knowledge and expertise. Our instructors are highly experienced, both in teaching and in the subject matter, so attendees acquire the skills they need rapidly, with little frustration."
Attendees agree, with many praising Depot International's high-quality instruction. As one 2019 Roadshow attendee pointed out, "As far as I'm concerned, this was the best class I have ever taken. The instructor did a fantastic job. He was very professional, and you can tell that he really knows his stuff."
Depot International's 2020 Roadshow locations will include the following locations and dates:
Topics addressed during each training include laser printer theory (both color and mono methods); advanced troubleshooting procedures and resources; removal/replacement, break-fix scenarios and common failures; and a session for open discussion and DI Certification testing.
Scenarios will emphasize today's most popular MPS printers to deliver the most utility to customers and keep techs current on cutting-edge technology. Additionally, classes are limited to 12 techs per session to ensure attendees get the kind of personalized instruction and attention Depot International is known for.
Companies looking to increase the quality of their printer repair service this year by sending technicians to one of this year's eight Roadshow events should submit their registration early to ensure a spot. Registration can be completed online.
About Clover Imaging Group
Centered around sustainable innovation, Clover Imaging Group offers independent dealers, OEMs, and retailers a complete imaging and solutions platform. Clover Imaging's broad array of products and services includes award-winning remanufactured printer cartridges and parts, a comprehensive suite of managed print and technology services, and unparalleled marketing and sales support. Far from its early beginnings as an ink and toner remanufacturer, Clover Imaging has evolved into a global enterprise backed by world-class engineering, manufacturing and distribution infrastructure. These expansive capabilities enable Clover Imaging to provide a level of partnership unsurpassed in the aftermarket imaging space. For more information on Clover Imaging, please visit: www.cloverimaging.com.