New Site Features Media-Rich Interface for Exceptional Customer Experience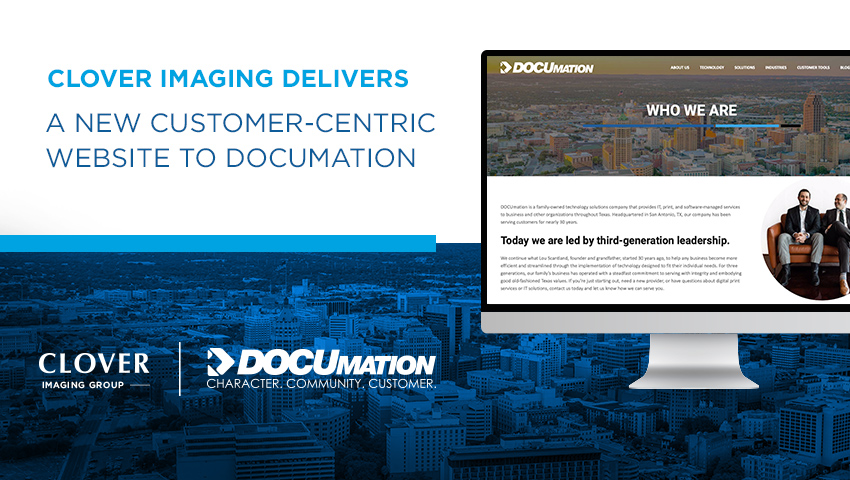 CHICAGO, IL — Clover Imaging Group proudly announces the launch of a dynamic new website for reseller partner, DOCUmation. This feature-rich site was four months in development to ensure each customer pain-point was thoroughly addressed. With a strong focus on multimedia elements to enhance the user experience, the new site adds layers of convenience and utility to the browsing experience.
"Clover Imaging was able to take our needs and translate them into a web design that provides a better user experience and a more streamlined, professional look. Our goal was to bring our brand forward and I think we're accomplishing that," notes Hunter Woolfolk, Co-President at DOCUmation.
Clover Imaging's Amplify marketing services team ensured the site offers visitors many options to access content, beginning with a customized embedded video on the homepage that features a visual company overview, complete with spectacular drone imaging.
From there, Clover Imaging's team doubled-down on customer convenience, building in multiple ways to access reviews including a scrolling live feed at the bottom of the homepage and audio testimonials for on-the-go listening. Importantly, they added a new "Customer Tools" section that features a unique portal specifically to bring customers faster access to supplies, assistance, and more.
"We love working with partners like DOCUmation who have a good understanding of the intersection between web development and customer satisfaction. They comprehend at a deep level how web-based service and marketing strategies can not only enhance the customer experience but contribute to increased lead generation for amplified business growth," said Aaron Dyck, Senior Vice President of Marketing for Clover Imaging.
Clover Imaging is fully committed to providing its reseller partners with the kind of marketing agency experience that drives real results. Through custom website design and development, as well as a range of digital marketing strategies and services, Clover Imaging continues to provide partners with the leverage they need to stand out in a crowded marketplace.
Visit DOCUmation's new website at: https://www.mation.com
About Clover Imaging
Centered around sustainable innovation, Clover Imaging offers independent dealers, OEMs, and retailers a complete imaging and solutions platform. Clover Imaging's broad array of products and services includes award-winning remanufactured printer cartridges and parts, a comprehensive suite of managed print and technology services, and unparalleled marketing and sales support. Far from its early beginnings as an ink and toner remanufacturer, Clover Imaging has evolved into a global enterprise backed by world-class engineering, manufacturing and distribution infrastructure. These expansive capabilities enable Clover Imaging to provide a level of partnership unsurpassed in the aftermarket imaging space. For more information on Clover Imaging, please visit: www.cloverimaging.com.
About DOCUmation
DOCUmation is s a family-owned technology solutions company that provides IT, print, and software-managed services to businesses and other organizations throughout Texas. Headquartered in San Antonio, DOCUmation has been serving customers for nearly 30 years, helping businesses become more streamlined through the implementation of technology to fit their individual needs.
For more information on DOCUmation, please visit: https://www.mation.com